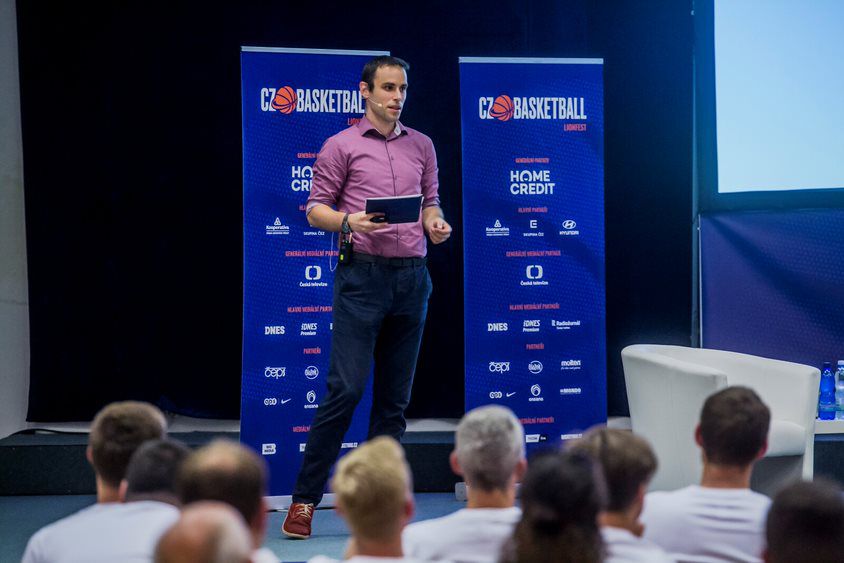 We see the future in eSports and take it as a big deal.
"We are open to new things. We mostly try to do them differently than others, and eSport is a space where we can use our creativity and imagination to cooperate with PGeS," says Martin Peterka, marketing director of the Czech Republic Basketball Federation alias CZ BASKETBALL. He teamed up with PGeS, Pragosports 'newly formed eSports division, to bring together great things in the rocketing and growing online sports scene in the coming months and years. The first will be the premier international eBasketball Open in October, but the regular eLeague is also in the pipeline.
Martin, what does CZ BASKETBALL promise from cooperation with PGeS in the field of eSports?
This means that we have teamed up with a partner who has experience in this field when we have so far focused mainly on live basketball on the court. The benefit will be organizational assistance, sharing of information, and experience, based on which the whole eSports concept will be built. We can then contribute through our basketball community and basketball knowledge. That cooperation should therefore be mutually beneficial.
Tell me, what could be considered the tangible success that this cooperation could bring?
Tangible things are hard to guess in the online world. (smile) It would be a success if we could build a stronger, more numerous NBA 2K game community here. So far, we can't compete with games like FIFA and the NHL in two of our most popular sports, but if a stable structure were created in the first few years, which would then add more players, it would be nice. Of course, we would also like a successful national team to be recruited from this community.
Can the planned eSports representation add an essential dimension to the mosaic of national teams, for example, by reaching out to another youth segment?
Representation is constantly watched, whether in regular sports or eSports. It can certainly appeal to a new group of children. So far, we know that the two communities, on the one hand, are a bit intertwined; on the other hand, it does not mean that a good NBA 2K player will also be an active basketball player. There is a breakthrough there, but we still have room to reach out to inactive basketball players, who will eventually become passionate fans.
Is it realistic to expect eSports to attract children to live basketball?
We want eSport to attract children to active play, but at the same time, you probably can't expect all NBA 2K players to pick up a real ball. After all, this should not be the primary goal. This should attract these people to the basketball community. If they do not play actively, watch what is happening under the baskets, be aware of the Czech league scene, watch the Czech national team in both five and three basketball, and thanks to that, the whole basketball family has expanded.
There is also an eLeague connected to the domestic elite competition of men in live basketball Kooperativa NBL. How big of a thing could it happen?
An eSports league would, of course, be a big thing for us. We understand that regular competition also requires extensive preparation and some time for it to take place. The eLeague would only confirm that basketball as a complex wants to hold the position of the third most popular sport in the Czech Republic. And NBA 2K is a tool that can help a lot because direct competitors in the fight for third place do not have this game option. So we see the cooperation with PGeS and NBA 2K and the upcoming league competition as our competitive advantage. It is one of the main reasons we wanted to go into this new cooperation.
How could ebasketball be used in marketing?
I assume that PGeS will help us a lot with these coming years, which we also expect from this cooperation. At the same time, we will address our existing and possibly new partners ourselves. In our country, eSport is not so well covered, and therefore it is a free field of activity, where rules are now being formed for how to behave in marketing in this field. Factors such as what the publisher of the game NBA 2K and others allow also come into play. In the first months and years, it will be experimentation at first, but it will be essential to pave the way for eSports to be used significantly in marketing as the rules are set, as its popularity will go up a lot. We believe that we are open to new things and try to do them differently from others, and eSport is a space where we can use our creativity and imagination to cooperate with PGeS.